Social Media Best Practices #JADPROLive
We've created this best practices guide for attendees to consider when posting on social media regarding the JADPRO Live Virtual conference. We encourage you to share key points from presentations and activities, connect with other attendees, and continue the discussion on your preferred social platforms. Help us keep the conversation going!
Make Sure to Follow JADPRO, APSHO, and #JADPROLive on Social Media
#JADPROLive is our official conference hashtag. Using the hashtag will make it easier for attendees to see your posts and engage with you directly. Add it to each post and tweet.
Not sure what to post?
Here are some samples to get you started. Be sure to use the correct handle for the social media site you are posting to.
Before you go
Who else is attending the annual @JADPRO conference, #JADPROLive?
1:28 PM · Sep 23, 2022
I'm attending the annual @JADPRO conference, #JADPROLive. Join me 10/20–10/23, 2022 in Aurora, CO for this event for #hematology #oncology #AdvancedPractitioners.
3:56 PM · Sep 30, 2022
I attend #JADPROLive because (insert reason here)
3:19 PM · Oct 16, 2022
I can't wait to (fill in the blank) at #JADPROLive
3:19 PM · Oct 9, 2022
At JADPRO Live
Excited to be attending #JADPROLive! Join me to learn more about (name of session/topic)
4:31 PM · Oct 20, 2022
One key takeaway for me from the session on (topic) during #JADPROLive was (key takeaway)
4:26 PM · Oct 21, 2022
My favorite part of #JADPROLive so far is (insert favorite here)
7:06 PM · Oct 21, 2022
Looking forward to discussing (name of session/topic) during #JADPROLive! See you there at (date/time).
11:20 AM · Oct 22, 2022
Best quote of the day from #JADPROLive "(quote)" (tag the presenter if they've shared their profile information)
2:01 PM · Oct 23, 2022
Include some images with your post: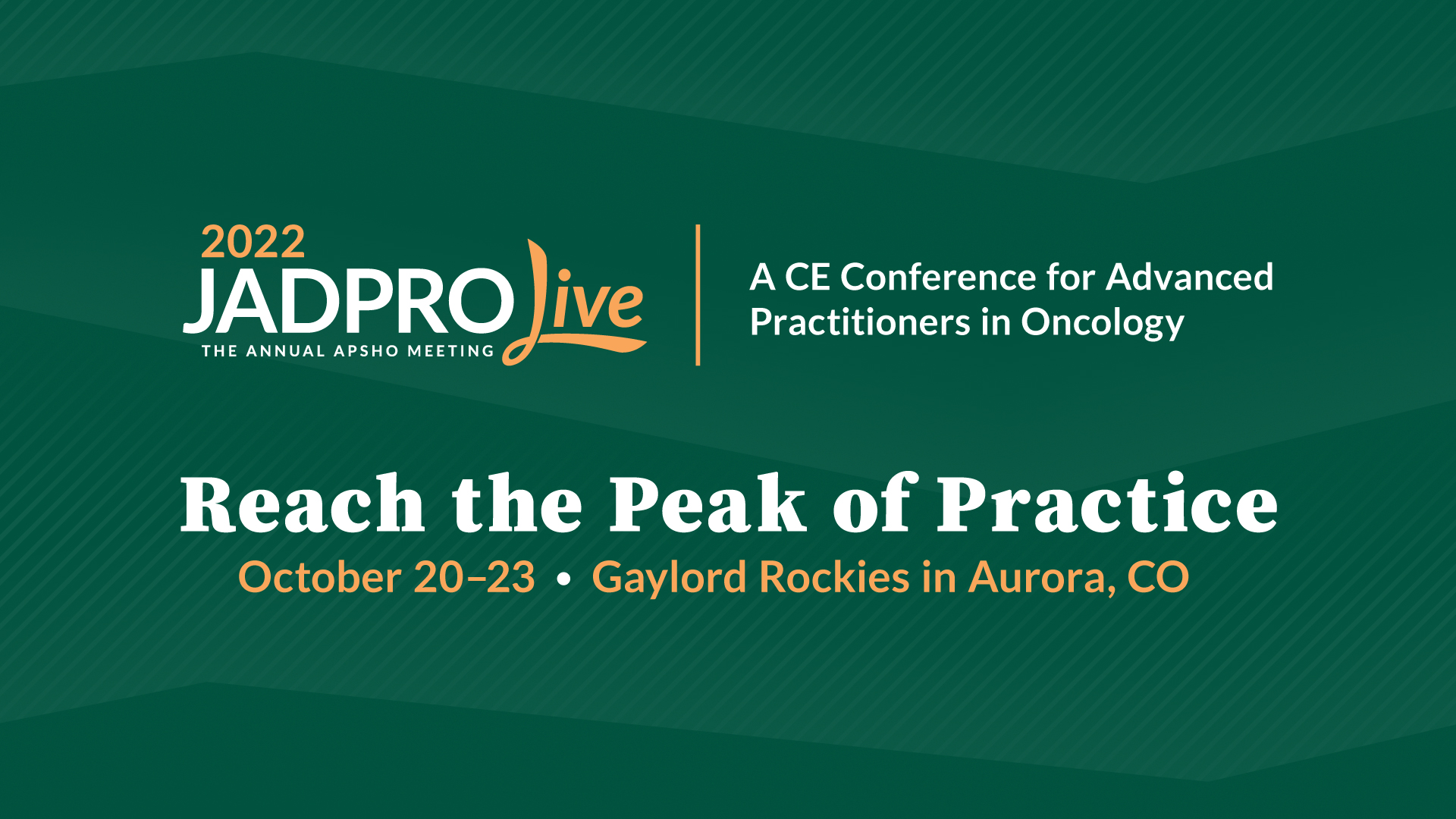 Dress up your LinkedIn profile page:

We'll see you online!
Watch for the social media icons within the conference platform. Click on them and join the conversation!
Questions or Concerns?
Please contact Kelley Moore at kmoore@hbside.com.