Independent Satellite Symposium Opportunities
Be sure to submit your application.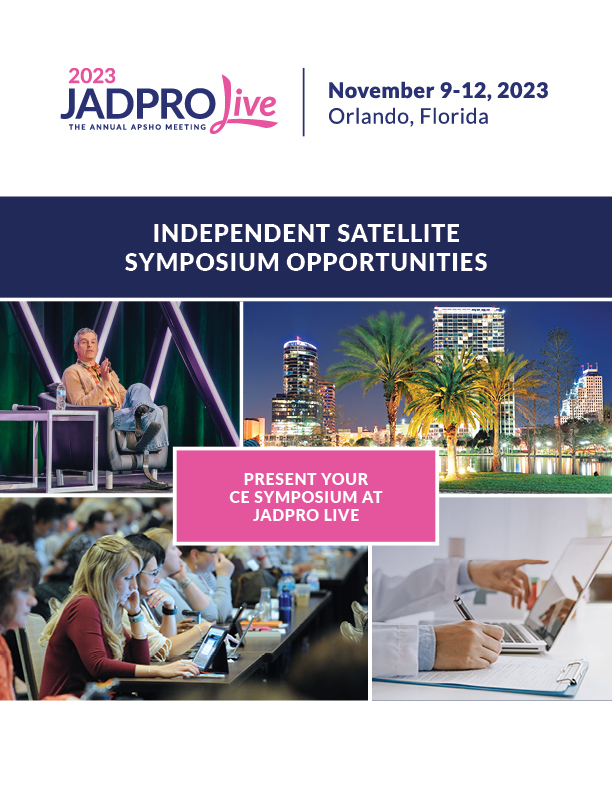 Potential satellite symposia are independent, supported by educational grants, CME/CE/CPE accredited, and offered in conjunction with JADPRO Live 2023, a conference for advanced practitioners in hematology/oncology. These events are not part of the official JADPRO Live 2023 meeting program and are planned solely by the independent event organizer.
Application Requirements
Each proposed symposium should be unique and answer an unmet educational need.
There is no limit to the number of applications an independent event organizer may submit.
Applications will be reviewed based on scientific merit, audience interest in the topic, and uniqueness of the symposium.
In the case of an approval, the contact person listed on the application will be notified. Further instructions on logistics, an invoice, and a letter of agreement will also be sent at that time.
Time Slots and Fees
Slot
Estimated Attendee Capacity
Fee
Saturday Evening (including dinner)
November 11th, 6:30 – 8:30 pm ET
100 - 125
$45,000
Payment is due by July 1, 2023. Payment must be made to BroadcastMed LLC, PO Box 790379,St. Louis, MO 63179-0379. A signed Letter of Agreement must accompany payment.
All expenses associated with approved satellite events, such as room rental and setup, food and beverage, audio-visual (AV), electrical, and shipping, are the sole responsibility of the event organizer.
Special requests must be pre-arranged with Harborside powered by BroadcastMed, and additional fees may apply.
---
CME/CE/CPE Accreditation
Harborside powered by BroadcastMed does not suggest or approve content or speakers for satellite symposia.
All satellite symposia must provide CME/CE/CPE credit opportunity; satellite organizers are responsible for obtaining accreditation and complying with associated guidelines and policies.
Only organizations accredited by the Accreditation Council for Continuing Medical Education (ACCME) may sponsor CME activities and may award AMA PRA Category 1 Credit™. Only organizations accredited by the American Nurses Credentialing Center's Commission on Accreditation (ANCC) may sponsor CE activities and may award contact hour credit. Only organizations accredited by the Accreditation Council for Pharmacy Education (ACPE) may sponsor CE activities and may award contact hours. These accredited providers are responsible for the content, quality, and scientific integrity of all CME/CE/CPE activities accredited for credit.
---
Program Content and Presenters
The proposed program will offer the audience information not presented elsewhere during the conference.
The program title must be indicative of the symposium content.
The learning objectives should clearly meet the educational needs of the target audience, advanced practitioners in oncology.
The program must be evidence-based, free from bias, and designed to provide relevant learning for the practicing clinician. The program cannot promote a specific drug product or service and must meet the policies and guidelines of the AAPA, ACCME, ANCC, and ACPE.
The presenter, or at least one member of the presenting team, should be an advanced practitioner currently treating patients.
---
Signage
One sign is permitted directly outside of the symposium room.
Directional signs are permitted at approved locations only.
Harborside powered by BroadcastMed will coordinate with satellite event organizers to produce and arrange signage placement. Non-approved signage is not permitted anywhere on premises.
Harborside powered by BroadcastMed will provide one sign with a listing of all CE satellite symposia.
---
Satellite Registration, Housing, Lead Retrieval, and Logistics
All satellite symposium learners MUST be registered attendees of JADPRO Live 2023. Attendees must wear their badges at all times. The satellite event organizer will receive temporary registration/badges for staff as needed.
Symposium lectures, videography, or other services must be contained within assigned rooms.
A separate room or foyer area will be assigned to those companies serving food and beverages. Any requested changes to the room setup can be arranged directly with the conference center.
Registration and all food functions must adhere to the assigned time frame.
Housing for support staff must be reserved through the JADPRO Live housing bureau. Upon completion of support staff temporary registration a link to the housing reservation website will be provided.
Lead retrieval units are available for rental.
Harborside powered by BroadcastMed will assign a meeting room for your event and provide a facility contact. Event organizer will be responsible for contracting with the venue for space rental and all services.
---
Audio/Visual and Food and Beverage
AV services and food and beverage are the event organizer's responsibility.
Event organizers are required to use the designated AV contractor for JADPRO Live. Additional third-party contractors must be approved by Harborside powered by BroadcastMed.
Event organizers are required to contract directly with the Orlando World Center Marriott for any catering needs.
---
Cancellation Policy
Cancellation requests must be submitted in writing to Patti McLafferty at pmclafferty@harborsidemeded.com.
Any cancellation requests received July 14 – 31, 2023, will incur a 50% cancellation penalty.
Any cancellation request received on or after August 1, 2023, will incur a 100% cancellation penalty.
---
On Demand
Harborside powered by BroadcastMed will host all JADPRO Live general session presentations and Independent Satellite Symposia on demand from November 20 through December 31, 2023, accessible to all registered attendees. Please plan to video record your Independent Satellite Symposium for posting. There will be no additional fee for the on-demand hosting.
For questions concerning the Independent Satellite Symposium Application or Guidelines, please contact Patti McLafferty at pmclafferty@harborsidemeded.com.