Join Us for a Night of Stories
5:00 pm on Saturday, October 26
Room 4F, Washington State Convention Center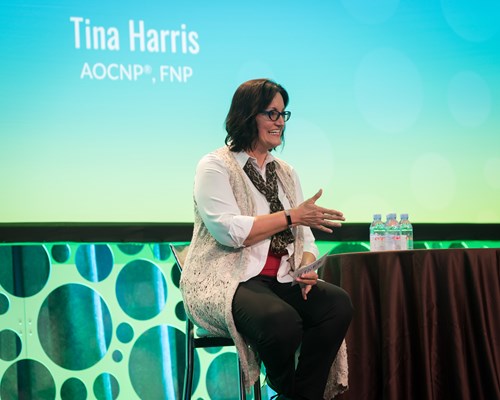 Bedside Stories was a great time to let our hair down, hear inspiring stories, and be reminded of why we do what we do
—2018 JADPRO Live attendee
Back by popular demand, the second annual storytelling session at JADPRO Live will feature your fellow advanced practice peers speaking openly about what has scared them, thrilled them, and changed their outlook during their time caring for patients. Learn from shared experiences, interact with other attendees, and be supported in your growth with extraordinary stories from your peers.
Interested in sharing your story?
Calling all AP attendees! To be considered as a storyteller, please submit a 200-word summary outlining a personal story you'd like to tell on stage. Hurry, spots are limited!
Your story should be true, but it is recommended to change names for patient/colleague confidentiality
Due to time restrictions, 3–4 speakers will be invited for 8–10 minute stage time
Visual elements are not permitted on stage, but you may bring notes
For questions about submissions, please email us at storytelling@jadprolive.com. The submission deadline is 11:59 pm PDT on September 20, 2019 [deadline extended]. Storytellers will be selected and contacted by the end of September.
Submit your story
What Makes a Good Story?
Have you ever thought
"This would make a great story?"
At this special JADPRO Live evening event, we invite you to share that story about a real experience from your life that contributed to why you are the advanced practitioner you are today.
Tell us your story of how you got started in oncology. Describe a defining moment in your career. Or, share your story about a mistake, a success, or a surprising turn of events you experienced at your practice. Don't be afraid to be honest about your grief and triumphs. Most importantly, we want to hear your side of the story and celebrate the passion it takes to be an advanced practitioner.
Here are some tips for planning your story.
Do
Don't
Do be truthful about funny, embarassing, or tragic events in your story
Don't make up any part of your story
(Although it is recommended that you change patient and colleague names)
Do keep your tone conversational and casual
Don't speak as if you're giving a lecture
Do include specifics
Don't be vague
Do tell us your unique, inner monologue. What was going through your head at that time?
Don't simply recount a timeline of events
Do be vulnerable and show emotion while telling your story
Don't tell a story about something you don't feel strongly about
Prompts
Here are some prompts to get you started on thinking what you'd like to propose for your story
What is one lesson you would give your younger self if you could go back in time?
How did you get into this field?
What was a defining moment in your career?
What was a turning point in your career in oncology
What's the best part of your role?
What's the worst part of your role?
What scares you?
What did you think you wanted to do instead of being an oncology advanced practitioner?
Think of a time when you made a mistake. Tell us your inner monologue. Take yourself back to your thoughts at the time of the incident.
Think of the first time you did a procedure for the first time (e.g., bone marrow biopsy). Walk us through your inner monologue—how you felt before, during, and after.
Tell us about the first time you experienced a patient's death and how you worked through the grief and other emotions.
Tell us about a relationship with a colleague that has been instrumental—how you met, how your relationship has changed.
The submission deadline is 11:59 pm PDT on September 20, 2019 [deadline extended].
Storytellers will be selected and notified by the end of September.
For questions about submissions, please email storytelling@jadprolive.com.