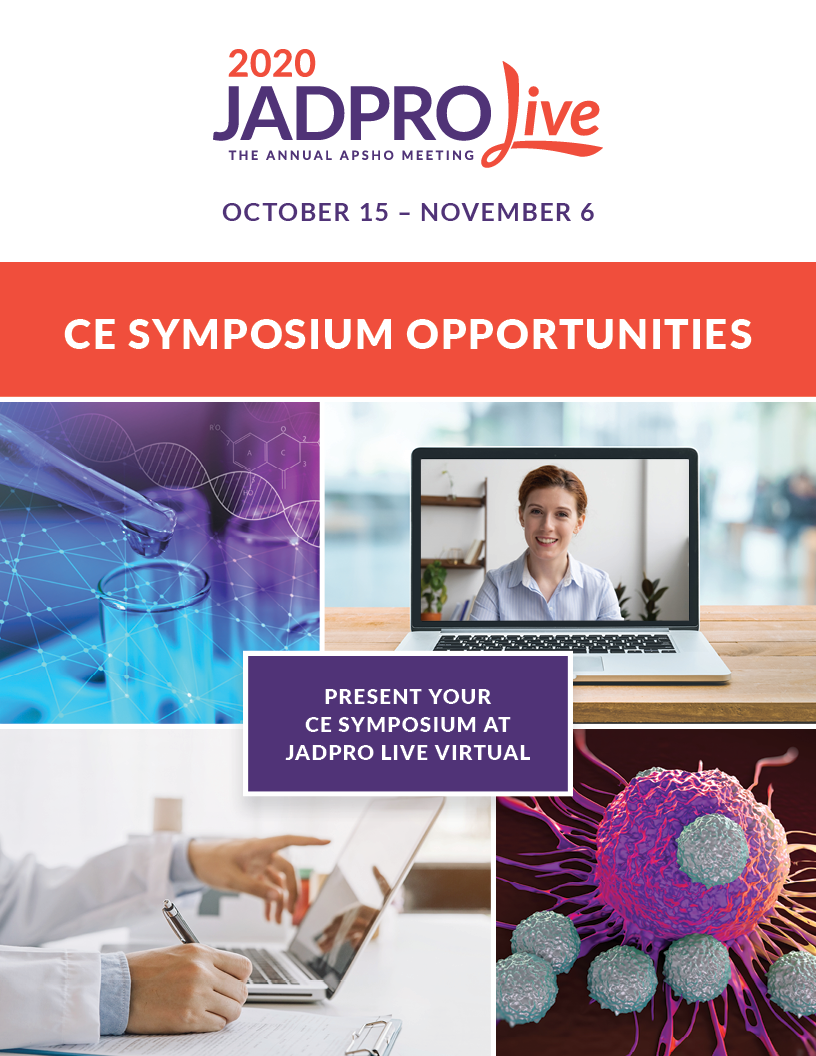 Potential satellite symposia are independent, supported by educational grants, CME/CE/CPE certified, and to be offered in conjunction with JADPRO Live Virtual, a conference for advanced practitioners in hematology/oncology. These events are not part of the official JADPRO Live Virtual meeting program and are planned solely by the independent event organizer.
Application Requirements
Each proposed symposium should be unique and answer an unmet educational need.
Applications must be complete and submitted online by the deadline of July 20, with payment due on August 3. (Incomplete applications will not be reviewed.) There is no limit to the number of applications an independent event organizer may submit.
Applications will be reviewed based on scientific merit, audience interest in the topic, and uniqueness of the symposium.
In the case of an approval, the contact person listed on the application will be notified. Further instructions on logistics, an invoice, and a letter of agreement will also be sent at that time.
Meeting Format
| | | | |
| --- | --- | --- | --- |
| Day | Live Sessions | Encore Sessions | CE Symposia |
| 1 – Thursday, Oct 15 | 6 | 0 | 1 |
| 2 – Friday, Oct 16 | 1 | 2 | 0 |
| 3 – Saturday, Oct 17 | 6 | 0 | 1 |
| 4 – Sunday, Oct 18 | 1 | 2 | 1 |
| 5 – Monday, Oct 19 | 1 | 2 | 1 |
| 6 – Tuesday, Oct 20 | 1 | 1 | 0 |
| 7 – Wednesday, Oct 21 | 1 | 2 | 1 |
| 8 – Thursday, Oct 22 | 6 | 1 | 0 |
| 9 – Friday, Oct 23 | 1 | 2 | 0 |
| Total | 24 | 12 | 5 |
🗓️ 12 Days of Encore Restreams: Saturday, October 24, to Friday, November 6
One session per day, shown twice with select CE satellite encores
🗓️ 42 Days of Full On-Demand: Friday, November 20, to Sunday, December 31
CE Symposium Opportunity
Medical education company (MEC) to provide:

Promotional materials

Printed invitation for JADPRO Live in a Box
Images and text for promotion

Link to CE-certified symposium housed on MEC's website
All appropriate measures required to provide credits to attendees

Harborside to provide:

Symposium registration highlighted on JADPRO Live website

JADPRO Live in a Box delivered to all attendees
Listing in conference guide
CE print brochure
Opportunity to insert printed invitation in box

E-Mail notifications

1x dedicated e-mail with provided registration link
Inclusion in additional pre-registration communications

Virtual meeting

Listing at CE symposium location (lobby sign, kiosk, etc.)
Dedicated event time during live presentation, encore presentations, and online housing for 1 month
Event reminders on housekeeping slides and communications throughout the meeting

Program live on site until December 31, 2020
Submission deadline: July 20, 2020

Cost: $40,000 per program
CME/CE/CPE Accreditation
Harborside does not suggest or approve content or speakers for satellite symposia.
All satellite symposia must provide CME/CE/CPE credit opportunity; event organizers are responsible for obtaining accreditation and complying with associated guidelines and policies.
Only organizations accredited by the Accreditation Council for Continuing Medical Education (ACCME) may sponsor CME activities and may award AMA PRA Category 1 Credit™. Only organizations accredited by the American Nurses Credentialing Center's Commission on Accreditation (ANCC) may sponsor CE activities and may award contact hour credit. Only organizations accredited by the Accreditation Council for Pharmacy Education (ACPE) may sponsor CE activities and may award contact hours. These accredited providers are responsible for the content, quality, and scientific integrity of all CME/CE/CPE activities certified for credit.
Harborside encourages all providers participating in satellite symposia to review the current ACCME Standards for Commercial Support, these standards can be found at accme.org; the ANCC Certification Policies, which can be found at www.nursingworld.org/certification/certification-policies and the Accreditation Council for Pharmacy Education's Continuing Education Provider Accreditation Program, which can be found at www.acpe-accredit.org
Program Content and Presenters
The proposed program will offer the audience information not presented elsewhere during the conference.
   
The program title must be indicative of the symposium content.
The learning objectives should clearly meet the educational needs of the target audience: advanced practitioners in oncology.
The program must be evidence based, free from bias, and designed to provide relevant learning for the practicing clinician. The program cannot promote a specific drug product or service and must meet the policies and guidelines of the ACCME, ANCC, and ACPE.
The presenter, or at least one member of the presenting team, should be an advanced practitioner currently treating patients.
Promotional Materials and Educational Meeting Handouts
Harborside will provide a listing of each satellite symposium in the conference guide and on its website.
Harborside will send one (1) customized e-mail announcement to attendees per satellite.
Your satellite (and contact information) will be listed in a stand-alone print brochure that features all CE satellite symposia.
Additional announcement requests must be approved by Harborside.
Educational meeting material may be distributed during each independent satellite symposium. There may be no other communication distributed during the event
Cancellation Policy
Cancellation requests must be submitted in writing to Patti McLafferty at pmclafferty@harborsidemeded.com
Any cancellation requests received August 14–31, 2020, will incur a 50% cancellation penalty.
Any cancellation request received on or after September 1, 2020, will incur a 100% cancellation penalty
For questions concerning the Independent Satellite Symposium Application or Guidelines, please contact: Patti McLafferty at pmclafferty@harborsidemeded.com